A DIY kayak cart makes transporting your kayak to the water easy and efficient. Ideal for using when you are going out on the water solo or when you are going with a group of friends for a day of kayaking.
Building an inexpensive kayak cart will enable you to move your kayak and all your equipment in one trip from your vehicle to the water. If you live near the water, a homemade kayak cart will eliminate the need of using a vehicle since everything for a day of water fun can be hauled on the lightweight cart.
Check out our list of these 21 DIY kayak carts ideas and follow the free plans to build one for yourself. Your friends may be interested in owning their own and learning how to make a kayak cart might turn into a profitable side business for you.
1- PVC Kayak Cart
The first one we are going to show you is a PVC kayak cart by rei, it's  lightweight, compact, sturdy, and affordable, we love it. Some cheap PVC pipe and a couple of hand truck tires are basically all you will need to build your own cart. 
No more lifting and carrying the kayak over your head and down to the water, just load it onto the sturdy homemade cart and roll it wherever you want it.
PVC pipe can be purchased at any home supply center and it is an easy material to work with. Just measure, cut, and glue into the threaded joints to create the desired size. Use a foam pool noodle to provide cushioning so the plastic PVC pipe won't scratch your kayak and small wheels to make the cart mobile.
These free kayak plans use hand truck wheels but recycled wheels from a lawn mower, tricycle, etc., would work also.
You can build this diy kayak using a wide list of material, some are One 10′ length and one 2′ length 3/4″ diameter SCH40,PVC joints,Two 5/8th cut washers,Four 5/8th nuts,Pool noodle,Six zip ties and Two tie-down straps.
2- Paddle Frame Cart
A kayak needs two paddles to propel it forward and guide it through the water, so why not use those two paddles as part of the DIY kayak cartframe? That is the ingenious idea this DIY'er came up with and now he shares his kayyak building plans on his site joshuaelek with us. 
Training wheels from a child's bike, a block of wood, and the two kayak paddles are about all that is needed for this DIY kayak cart. The paddles are easy to put into place and use to stabilize the kayak when it is being moved, then the paddles are easy to remove when it is time to get in the water.
3- DIY Canoe Cart
If you own a canoe, you need a canoe cart. Carrying a heavy canoe from the vehicle to the water and back again can be a daunting task and cause you to not go out on the water as often as you would like. Change that and enjoy floating on the water more often by building yourself a DIY canoe cart like this one at forums.wcha.org.
Let a homemade cart do all the heavy lifting and carrying for you so you can enjoy the water without the muscle strain. Step by step instructions make this DIY project easy to complete and the project is budget friendly.
4- Cheap Kayak Cart
This YouTube video will show you how to make a kayak cart for under $30. If you have the PVC pipe and joints on hand, it will even cost less than that to make.
Anyone who lives near the water and goes kayaking often needs to have one of these cheap carts. If you happen to live near the water making these homemade kayak carts could become a very good business for you. Cheap does not mean inferior quality, it means these carts can be made cheap so you can make a good profit when you sell them.
The handle makes the cart easy to pull and guide wherever you need to kayak to go. This is an easy DIY project that can be completed in a few hours and only cost a few dollars.
5- Recycled Jogging Stroller
Here is an idea for a homemade kayak cart by steemit that is cheap to make and keeps a useable item out of the landfill.
Follow these free plans to recycle an old jogging stroller into a new DIY kayak cart. The jogging stroller frame is lightweight and sturdy and needs minimal modification to be transformed into a cart that will carry a kayak or canoe.
When the baby has outgrown the stroller you can use it again to carry your kayak. The width is perfect, the frame is sturdy and light, and the wheels will roll over most terrain easily. Recycling jogging stroller is will save you money on this DIY project and is an eco-friendly choice.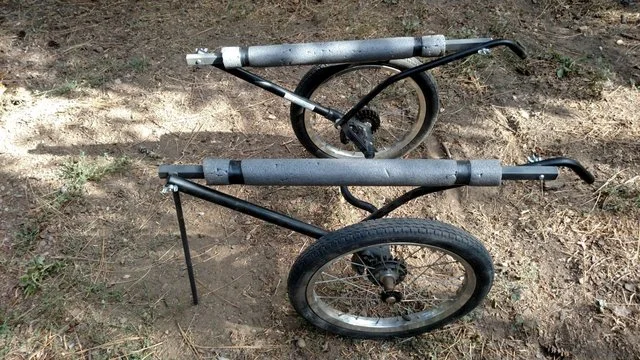 6- PVC Kayak Dolly
Watch this YouTube video to find out how to build a DIY kayak dolly with PVC pipe and fittings.
It's easy to assemble, lightweight, durable, and can be built on a budget. The DIY project is quick and easy and will provide a kayak cart that will last for years. Place the cart near the back of the kayak and you can pull it anywhere you want from the front end of the kayak. There is a space in the dolly that can hold a small tackle box or cooler. Just use a bungee cord to hold the item in place and you can be set for a day of fishing on your favorite lake.
7- Scrap Made Kayak Cart
This YouTube video will show you how to create a budget friendly kayak cart from the leftover scrap building material.
Check out the scraps you have on hand and get creative with the inspiration this YouTube video will give you. If you have enough scrap supplies on hand, this DIY project is cheap to create.
Carrying a kayak from home to the water is not easy and loading it onto a vehicle and driving uses fossil fuel, so there has to be a better way of transporting your kayak. A homemade cart is the answer. It's cheap (maybe even free) to build, lightweight, durable, easy to maneuver, and uses no fossil fuel. 
It's cheap to build and cheap to use. Follow these free video instructions and build yourself one today.
8- Small Kayak Cart
No extras for this DIY project, just a basic small PVC kayak cart by Instructables that will get the job done. These pictorial instructions show you how to create this small kayak cart and the parts list will tell you every component needed to complete the project.
This homemade cart is small and compact, so it can be loaded into the trunk of your car and taken with you as needed. Built low to the ground so the cart won't turn over. The wheels of a golf bag cart have been recycled for use in this building project to keep the PVC cart affordable to build on a budget.
Add a handle to the cart for easy maneuverability and cushions made from a pool noodle to protect your kayak.
9- Canoe Cart For Rough Terrain
Do you enjoy taking the canoe out on the water but don't enjoy carrying the canoe to the water? That sounds like most of us but the canoe has to get to the water before we can get in it and enjoy a peaceful, relaxing ride on the river. 
This YouTube video will give you all the detailed instructions needed to build a DIY canoe cart so you won't have to carry your watercraft anymore. Enjoy water fun without having sore, achy muscles from carrying your canoe after building this affordable homemade cart.
The larger tires on this cart give it the ability to travel over rough terrain with ease. 
10- DIY Kayak Trolley
These free plans will show you how to make a kayak trolley by saltwaterkayakfisherman that is portable and affordable. This DIY kayak trolley is easy to disassemble and reassemble so you can place it into the hatch of the kayak. It will always be handy when you need to move your kayak from the vehicle to the water and it will always be in the kayak with you on the water so no one will steal it while you are out having fun.
This DIY project is simple and can be completed in just a few hours. Have peace of mind knowing your homemade cart is safe and knowing you won't be exhausted at the end of the day from carrying your kayak.
11- Lawn Mower Wheels By Penobscotpaddles
This DIY kayak cart by Penobscotpaddles is made from two lawn mower wheels and an axle that's why we like it. It is strapped onto the front of the canoe and store securely into the hatch when not in use. This towing cart is small but mighty and does all the work for you.
The thought of having to carry your kayak to and from the water can make you want to stay at home and give up kayaking. Don't let that happen, just build this budget friendly cart that costs under $15 so you can continue to enjoy paddling down the river.
12- Walker Hack
Can you imagine a granny walker being transformed into a DIY kayak cart? It's easy to do and these free plans will show you how to do it.
The granny walker has all the needed components to make a homemade canoe cart at northwestkayakanglers, like the lightweight metal frame and two wheels. All you have to do is disassemble the walker and reassemble it in a different configuration to create a functional and affordable kayak cart.
This walker hack will provide you with a method of transporting your kayak with very little out of pocket expense. Used walkers are easy to find and cheap to purchase at a thrift store, or you may want to upgrade granny with a new walker and recycle her old one.
13- Small Cart For Camping
Campers have minimal space so everything must have a purpose to earn a spot on a camping trip. Taking a kayak along for a camping trip is a must but finding room for a kayak cart in the camper might be a problem. 
That problem can be solved if you will make this small cart that will take up very little space in the camper. This DIY kayak cart on Youtube will make hiking through the woods with a kayak much easier, plus the homemade cart can be used for other things at the campsite if needed.
Save space, save money, and save energy with this small cart for hauling your kayak. Get the tutorial on:
14- Step Cart Kayak Trolley
This DIY kayak trolley doubles by instructables as a step for loading and unloading your kayak. The trolley is easy to build and uses a pre-made plastic step stool as the base and foam pool noodles as the padding. The lightweight step cart trolley is easy to pull behind a vehicle, bicycle, or to pull by hand. It is one of our favorite DIY kayak cart.
These detailed instructions will provide you with a list of needed building materials and pictures for easy assembly. It's a budget-friendly way to build a functional kayak trolley. Since the step stool is already assembled, putting all the components together to transform it into a trolley to pull a kayak will be quick and easy.
15- All Terrain Kayak Cart
If you like to take your kayak off the main pathway and head to secluded lakes and rivers, you need this all-terrain kayak cart.
The large wheels make this cart ideal for pulling your kayak through wooded areas, up hills, and over rough terrain. The wood frame makes the cart durable and sturdy so it will last for years of use over rough terrain.
This YouTube video will provide you with all the instructions needed to build this all-terrain kayak cart on a budget. If you have lumber left over from other building projects this DIY project will be almost free to create.
16- Slip-On Kayak Cart
If you are tired of carrying your kayak from the vehicle to the lake but don't want to invest a lot of money in a kayak cart, We recommend this diy kayak cart to you. These free plans will show you how to build a slip-on kayak cart by instructables with vinyl braided tubing.
This slip-on cart is small so it's easy to pack in a vehicle until it's needed. It's lightweight so it won't add extra weight and make pulling the kayak difficult in uneven terrain. It's durable and will last for years. Best of all, it can be built on a budget that's why love it.
Follow these detailed instructions and build yourself a slip-on kayak cart this morning and be ready for fish this afternoon.
17- Skate Board Wheels
If you're looking for a cheap way to transport your kayak easily, then consider building this DIY kayak cart by instructables that uses skate board wheels.
The skate board wheels will keep the kayak off the ground while pulling it and make it easy to maneuver. The small sized wheels will also let you keep the cart attached to the kayak while it's on top of your vehicle. You won't have to assemble and disassemble the cart for transport.
You can get the kayak in the water faster and enjoy more time fishing. This DIY kayak cart is easy and cheap to build.
18- Recycled Golf Bag Cart
If you have an old golf bag cart that has seen better days, you can salvage it and recycle it into a usable homemade canoe cart by skyaboveus. 
Carrying your canoe from is exhausting and takes the fun out of kayaking, so save your energy for paddling on the river by building yourself a canoe cart. These free plans will provide all the detailed instructions needed so you can recycle an old golf bag cart into a new DIY kayak cart.
If you don't have an old golf bag, finding a cheap one with a good frame at a thrift shop will be easy. Perhaps someone you know may have one they will gladly give to you to get it out of their way.
19- Modified Cart
Sometimes you just can't find a cart that is perfect for your kayak. If you are in this predicament, watch this YouTube video to learn how to make a few kayak cark.
You can start with a cheap store bought kayak cart and modify it so it will be just right for your needs. All you need to do is add a couple of boards and strap to a store bought cart to make it more stable for a long kayak. Seal the wood with water sealant and the modified cart will last for years.
The modified kayak cart is small enough to haul in a vehicle and light enough to not increase the weight of the kayak when you are pulling it to your favorite lake. This DIY project can be built on a budget and is a quick project to complete. The project can be completed in a couple of hours since the frame is already assembled.
20- Recycled Furniture Dollie
Here is a YouTube video that will show you how to create an efficient DIY kayak cart out of a recycled furniture Dollie. 
You will never have to carry your boat again after you build yourself an affordable, budget friendly DIY cart like this one. If you have a set of hand trucks on hand this DIY project will be almost free to create.
This detailed video will show you every step of the building process and everything that you will need to complete it. Simple, lightweight, and sturdy, this cart will last for years.
21- Furniture Dolly Transformation By UKriversguidebook
A metal furniture dolly can be transformed into a DIY kayak cart by ukriversguidebook with these free plans. Furniture dollies like the one in these plans are cheap to buy and they are built sturdy to move furniture. With a little modification, a dolly can be transformed into a sturdy kayak cart. The wheels and frame are already in place, so the biggest task is to remove the handle and add some foam padding. After that, just strap on the kayak and head out for your favorite fishing location.
Sometimes the cheapest and easiest DIY project starts with a store bought item like this furniture dolly. Do a little modification work so the item will meet your needs and you will have a customized piece of equipment that will save you a lot of time and energy. Plus, it was created on a budget.
Final Thoughts
If you love kayaking then why not build a kayak cart that will help you to load and drag your kayak from your car to water. So you don't need to lift or carry the kayak over your head. Since they are lightweight, durable and easy to make so having one in your next do it yourself list is an excellent idea to try!
Helpful resources: