Use one of these owl house plans we have found for you to build a nesting box to attract an owl or two to your landscape. Not only are these nocturnal feeding birds beautiful to observe, but they also provide benefits for your outdoor living space.
Owls provide natural pest control and will reduce the population of a wide range of pests, like flies, mosquitoes, snakes, and rats. Owls do not pose any threat to humans or pets and one of these 17 owl house plans we have prepared a roundup will help you create an attractive home for this beneficial and interesting bird.
You may also like to see: birdhouse plans, bluebird house plans, bat box plans, and homemade hummingbird feeder.
1- Little Owl House
Little owls, also known as Athena owls, like living in little houses located in a little backyard. They typically make their home in a small tree cavity and claim a small area around that tree as their hunting territory.
If you have a small backyard this little owl house by instructables will be ideal for attracting an Athena owl. These owls like to remain close to their home and keep their areas well patrolled and free of predators.
These small owls have excellent night vision and are often used as a symbol of wisdom. Use these free owl house plans and build a home for a wise old owl this weekend.
2- Barn Owl Nest Box
Here we have a step by step guide on a YouTube video that will make building a nesting box for an owl very easy.
This is an owl box plan that shows you how to build a large weather-proof nesting box that would be ideal for climates that have cold winter weather. The large size will attract a pair of large barn owls so they can raise owlets. The warm construction will help increase the survival rate of tiny owlets in cold climates so the population of damaging rodents can be decreased in your backyard and farming areas.
The barn owls will appreciate a warm, safe place to live and raise their tiny owlets and will show their appreciation by keeping your backyard clear of unwanted pests.
3- Two-Chamber Owl House
If you would like to attract a pair of owls to your backyard so they will produce owlets, then this nesting box by Static1.Square Space will be perfect for you.
The two-chamber box allows the owls to build a nest in the back chamber away from the entry hole to help keep the owlets safe from predators. There are no outside perches on this design so the tiny owlets won't perch outside the box where they would become easy prey for predators. No outside perch also makes it more difficult for predators to attack the owls. Grooves created at the bottom of the entryway make it easy for adult owls to enter and exit the box.
4- Simple Box
Learn how to build an owl house by mycarpentry that is a simple oblong shape with these free plans. This DIY project is a great way to use scrap pieces of lumber leftover from other DIY projects.
This owl nesting box is 8-inches by 12-inches with a 3-inch entry hole near the roofline to help keep predators out. These detailed plans and hanging instructions make these an easy project for young bird watchers to build.
5- Screech Owl Box
This simple box by Felt Magnet is designed to specifically attract screech owls to your backyard. Once a screech owl moves into this nesting box it will remain as a permanent resident.
Screech owls are the smallest owl breed unlike the other ones we are going to discuss and typically measure 10-inches tall and enjoy living in suburban areas around people.These owls lay eggs each year in the spring and have a lifespan of around 14 years.
We recommend this small-sized owl box to be perfect if you want to attract screech owls and is easy and inexpensive to build.
6- Barred Owl House
These owl house plans will show you how to build a nesting box by Owl Pages that will be attractive to the barred owl.
The barred owl, also called a hoot owl, is quite large and common in suburban areas. These attractive owls are interesting to watch and listen too as they give their familiar 'hoot-hoot' calls. This DIY owl house is larger than most designs we have in this article since it is being created to attract a larger bird, If the barred owl is happy with the home it's possible a pair will move in a raise several broods over the years.
7- Barn Owl Box
If you have a barn chances are you also have rats. A barn owl can help solve the rodent problem better than a cat. Barn owls are also very attractive to look at, with their large white face and black eyes. These attractive owls have a life expectancy of around 4 years so they can remove a lot of unwanted pests from your landscape during their lifetime.
Build this barn owl house by w.ky.gov to attract this nocturnal feeder that is an expert rodent catcher. These free plans will show you how to build the owl box and the best place to hang it to attract a barn owl.
8- Cedar Board Owl Box Plans
Use cedar wood and these plans to create an attractive owl house by hobbyfarms that should attract a pair of owls to your backyard.
The cedar wood will last for years and is a favorite wood type of screech owls. A pair of screech owls are interesting to observe and listen to, plus some of them will become tame and trusting of humans and can be trained to perch on your outstretched hand.
Screen owls are small but they have large appetites and will keep your backyard free of rat, voles, snakes, and flying insects.
9- Strong Box
This owl house plans on this detailed YouTube video will show you how to build a strong nesting box that can withstand the outdoor elements for years.
If you live in a climate that is prone to high winds, heavy rainfall with damaging hail, and/or have trees that drop many limbs during the year, then we suggest this strong box is the right one for you. These owl box plans will show you how to create an owl house that will attract owls to your backyard for years. The sturdy wooden box is simple and inexpensive to build and will attract large owl breeds to your backyard.
10- Owl Box With Perch
Use these free YouTube owl house plans to create a natural-looking box that will blend in well with woodland surroundings.
If you want to create a habitat for owls that does not stand out, then this design is for you. Scrap lumber and a sturdy twig for a perch are the building components used for this DIY owl house.
Owls do not have to have newly built houses to move into, they are opportunistic birds that will build their nests in the old nests of woodpeckers.
The right size box in the right location with plenty of food nearby is all an owl needs to feel at home. Some owls enjoy sitting outside their nesting box on a perch to observe their hunting territory and watch for their next meal.
11- Hinged Top Nesting Box
This free plan will show you how to build a simple wooden box with a hinged top to attract owls to your backyard,
An owl house is like any other birdhouse, just slightly larger and with a larger entry hole in the front. This owl house plan by Audubon will show you how to build the house plus provide good tips for where to hang the box and the proper nesting material to place inside.
12- Large Owl House
Owls come in all sizes and this box will attract a large owl or two to your backyard. The sturdy box is built large to attract a barn owl to your property. The design is also a little whimsical as it has an 'exercise platform' built onto the front of the box.
Large owls need a large house and several large trees nearby. The Snowy owl, Great Horned owl, and Eagle owls like to fly between the trees for camouflage as they hunt for their prey on the ground.
This sturdy built nesting box will last for years and this detailed YouTube video makes it an easy DIY project. If you have leftover lumber to use for this DIY project it will help to keep the building cost down to a minimum.
13- Wooden Owl Box
This large wooden owl box is sure to attract an owl to your backyard. Not only are owls nice to look at and observe in flight, but they are also one of the best organic pest control methods that you can have.
Owls will keep large areas free of rodents, snakes, and flying pests. If you have fruit trees, grapes vines, or field crops, building a wooden owl box like this one on youtube to attract an owl would be a good asset. Once an owl has settled in and made the box her home, she will help keep the pest population down so your crops won't be destroyed. The owl will save you time and money by eating all the pests.
Place an owl nesting box a few hundred feet away from your house and other high traffic landscape areas. Owls don't like people coming too close to their nests when they have young inside the nesting box.
This YouTube video will provide you with DIY owl box plans that is easy to make from scrap wood. If you have a table saw you can cut your own wood from a large log and the cost of the DIY will be free.
14- Screeching Owl House
It takes a special type of house to attract a special type of owl. These screech owl box plans by instructables  will enable you to build a perfect house that will attract a screech owl to your backyard.
Screech owls like to spend their days roosting and resting is a safe and secure place where they can't be seen but can see their surroundings. This specially designed box provides the screech owl with exactly what it is looking for in a home – a hiding place with a view.
The screech owl will leave the box and become active at dusk. It will search for food for itself and the young it may have in the nesting box. Screech owls make ideal organic pest controllers and will keep your landscape free of flying, crawling, and creeping pests like mosquitoes, snakes, and moles.
Follow these detailed owl house plans for building a screech owl box so you can attract one to your backyard. The methods you may use to attract birds, like bird seeds and putting up any type of bird house, will not work to attract an owl. The owl house must be built in a specific way to get their attention and have them make it their new home.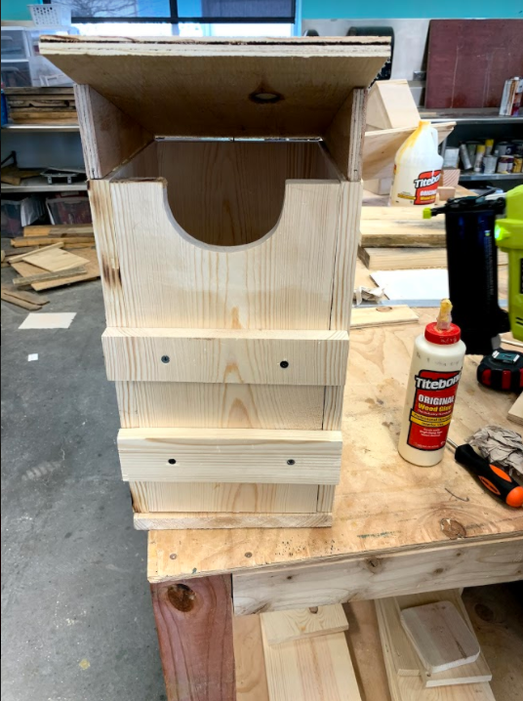 15- Recycled Owl House
This is an ideal way to use a hollowed out log that is not good to use for any other building project. Instead of tossing the hollowed out log onto the fire, use these owl nesting box plans by Instructables to create a recycled owl house.
You can cut the hollowed out log to the right size and attach a recycled board to the top and bottom so the log will have a roof and floor. Attach a board to the back of the log to make it easy to nail the recycled owl house to a tree or barn.
Barn owls would love this house and since most of the work is already done it is an easy DIY project. Use this idea as barn owl box plans that will be good for the environment and good for you.
Trees often have hollowed out spots in them that have been created by birds or squirrels but were abandoned after their young were grown. If you find one of these hollowed out spots in a tree you cut down it's easy to recycle it into an owl house.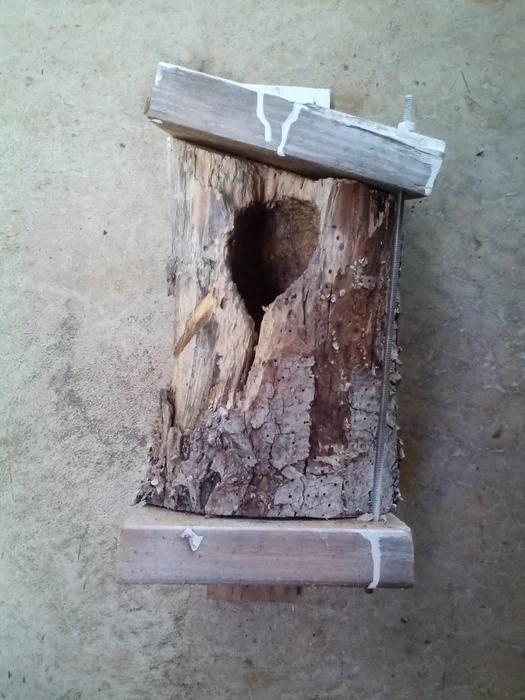 16- Barred Owl House Plans
Each owl species has its' own house requirements and will not nest until it finds the perfect house. These owl house plans are specifically designed to attract barred owls to your backyard.
Barred owls are larger than barn owls but not as large as the Great Horned owls and they will keep your landscape and garden area free of most pests. Barred owls are nocturnal hunters and will eat more than their own body weight each night. They hunt and devour rats, moles, snakes, bats, and all other types of flying, crawling pests that are unwanted near your home and food source.
Barred owls do require a special house design and these free plans will show you how to build an owl box that is perfect for them. The owl house also must be located in just the right place to attract barred owls. Barred owls live in thick forests that are near water. If your backyard has lots of trees and dense underbrush, plus has a small stream or the soil remains wet and soggy, barred owls are likely to be frequent visitors to the area. Use these YouTube owl house plans to build them a home so a barred owl will move in.
17- Simple Design
An owl house does not have to be fancy or elaborate, it just needs to be the right size with the correct size entry hole to attract an owl. This simple design can be built quickly and is an ideal way to use scrap pieces of lumber.
The simple design on youtube creates a large owl box with a large entry hole so it will attract large owl breeds, like the barn owl or Great Horned owl. These large breeds are easy to spot in the landscape and interesting to observe.
These larger owls have a large appetite and will quickly rid a large backyard of snakes, rats, and other unwanted vermin and insects.
Wraping Up
Owls have certain requirements to live such as a safe house or nesting box. Those of us who like to enjoy the sweet sounds of owls can build a simple house to enjoy the presence of owls as well as getting rid of pests such as flies, mosquitoes, snakes, and rats.
Here we have prepared a questionnaire that often people ask. 
FAQ's
Do owls sleep at all?
Owls are nocturnal birds that means they sleep all day long and get energetic during night time. Owls have 35-100 times better night vision than humans. There are also some species of owls that are diurnal which means they sleep at night.
What should be the size of an owl house?
There should be enough space for owls to stress and exercise their wings. It is thought that the length of owl houses should not be less than 7″ than their wingspread and at least half in width.
What is the best size of an owl house?
For making an owl house always use untreated wood such as fir, cedar, or pine. All owl houses must have an entrance space above 6″ high above the base. For Barn owls it should be a square about 6 by 7 inches and for an ellipse it can be a horizontal axis of 4 ½ inches.
What color should Owl House be?
Light colors are usually better than dark one as lighter colors become bright at night and bold colors can overheat during the sunshine.