These easy plans for building a wood greenhouse will enable you to build a decorative and functional outbuilding that will not only allow you to grow food and flowers in the off-season, but will also add value to your property.
A DIY wood greenhouse can be built as a permanent structure, temporary structure, or something in-between to meet your gardening needs.
Check out our round up of these 12 wood greenhouse plans that you can build easily to find the DIY structure that is right for your gardening needs.
1- Fiberglass Panel Greenhouse Plan
These free plans will show you how to build a permanent greenhouse by greatsouthernwood.com using fiberglass panels over a wooden frame.
* Select a level location that receives full sun.
* Build the wood frame according to directions (measurements and shopping list included in these free plans)
* Attach fiberglass panels to let the sun in and keep the elements out.
2- Wood Frame Greenhouse Plan
Here we have a DIY structure by blackanddecker that can be created in any size needed and can be semi-permanent or permanent. The plastic sheeting that covers the wood frame will last 3-5 years and can easily be replaced or the structure taken apart, depending on your future needs.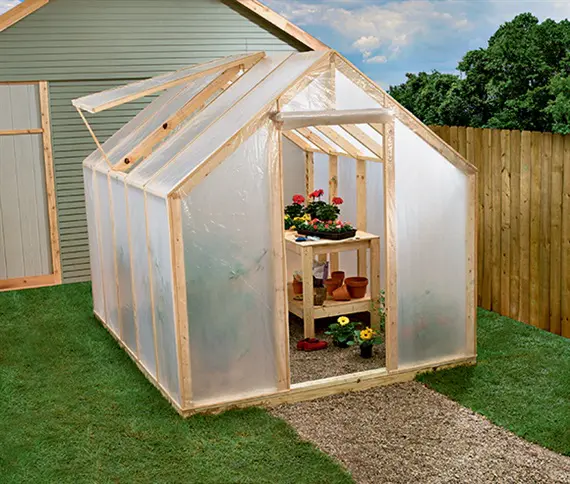 3- Extend Growing Season
Use these step by step plans to build a large wood frame greenhouse by theelliotthomestead that will enable you to extend your food growing season. Harvest fresh greenhouse vegetables almost year around when using a large greenhouse like these plans will enable you to build. Get crops started earlier in the spring with the growing space this homemade greenhouse will provide.
4- Small Wooden Greenhouse
This size is perfect for most home gardeners and will enable you to have fresh produce and/or flowers almost 12 months out of each year without taking up the entire backyard.
* Select a location that is in full sun.
* Decide on size and buy lumber, door and polyethylene foil (according to detailed list included with free plans)
* Create this functional and decorative greenhouse with top vents.
Find out complete instructions of this small wooden greenhouse at greatsouthernwood.com
5- Industrial Size DIY Wood Greenhouse
This DIY greenhouse by uk-gardening is for the serious gardener who depends upon their homegrown vegetables as part of a sustainable lifestyle or for income production. Great for growing plants on shelves and in grow boxes. You may also like to see hoop house plans.
6- Raised Bed Wood Greenhouse Plans
This style of wood greenhouse by wayneofthewoods allows for indoor and outdoor gardening.
* Pick a sunny, level location and install 6 wooden support posts.
* Lay insulation board on the ground and cover with at least 18 inches of soil (this will be the raised bed).
* Build and install the top frame for roof.
* Cover structure with plastic to hold heat inside. Remove plastic in spring.
Get the instructions for this raised bed greenhouse
7- Cheap Greenhouse
Small wood greenhouse by runnerduck that can be built against another outbuilding. The small size and use of exterior wall space from another structure make this an inexpensive DIY build. Great for seed starting in spring so you can get a head start on the garden growing season.
8- Pallet Wood Greenhouse Plans
Use these plans and recycle wood pallets into a functional and attractive greenhouse plans like this one by thegreenlever. Wood planks from pallets can also be used to create walkways within the greenhouse. You may also like to see cold frame plans.
9- Cedar Greenhouse Plan
These plans are for a medium sized greenhouse made with a cedar wood frame like this one by myoutdoorplans. Cedar wood is long lasting and stands up well to the elements, making it a good wood choice for structures that are intended to be permanent.
10- Small Greenhouse Plans
Follow this instructional YouTube and build your own small greenhouse from 2×4 lumber and plastic. Small size, but big on plant production.
11- Floored Greenhouse Plan
This easy to build greenhouse by ideadonnafarm has a plywood floor and plywood half-walls, topped with a wood frame covered with plastic. This simple and functional design will last for years and can easily be transformed into a different type of outdoor structure (work shop, playhouse, tool shed, etc.) if the time comes when it's no longer needed for a greenhouse. You may also like to see pvc greenhouse plans.
12- 8×8 Wood Frame Greenhouse Plans
Classic style that is easy to build and efficient to use. Simple wood frame with one door and three air vents, all covered with plastic provides plenty of space for seed starting and plant growing. Get the detail for this wood frame greenhouse by construct101.
Conclusion
Greenhouses help you to extend the growing season and get vegetables year round. Now you have ample resources from the list we have shared with you to decide to make one for yourself that suits your style and budget. Hope our article has helped you!