Flower boxes add character and beautify the entrance of your garden, deck or patio; a DIY planter box creates a warm and welcoming feeling and is ideal for an event entrance.
DIY planter box can also be built to grow plants to provide you with fresh herbs and veggies year round. You can either buy or make them yourself using some planter box plans. The major problem with buying is that they do not come cheap.
They are so pricy and what do we do when it comes to pricy things? Do it yourself, YUP! DIY. It's great to joggle up your creativity from time to time and tuck a new skill every day.
So, the internet was rummaged just for you and here are the top-notch planter box plans that we have brought up for you. These are best of the best, each plan with a certain quality that makes it unique and standout. Most of the plans are cedar planter box plans but you can add variations and alter it according to yourself.
You may also like to see our other relevant articles: diy window box planters, diy hanging planters, diy wall planters, diy tower garden, diy self-watering planters and diy concrete planters.
Below is a list of 52 DIY planter box Plans and ideas for deck or patio.
1- A Planter Box Plan to Fit Your Deck
In order to bring about a lively look to your deck, I would recommend you to create a large diy planter box by georgiapellegrini that is 8' long.
 Steps to build this diy planter box.
Design the frame for the base by hammering together all pieces.
Place the bottom piece of lumber inside the frame.
Add four pieces of lumber at every corner of frame.
Take measuring tape and pencil to mark the posts where you will add additional slats.
Nail all the slats.
Place some plastic garbage bag at bottom.
Make hole at bottom for drainage and fill it with dirt.
2- Small DIY Planter Box Design
To make a 3' long diy planter box like this one by sunset for salad leaves, you only need three of 8 foot 1X4 surfaced pieces of redwood. A circular saw, a tape measure and an electric drill are the tools required. In order to put the pieces together you may need some bolts. When finished, it will become one of the best wooden planter box from my complete list of 52 planter box plans.
3- Planter Box plan for Vegetable Gardening
This waist high planter box plan by instructables is a large one that measures 72"X21¾"X11¾" is able to give you independence on vegetables. It is left on a pine frame and the box is made out of cedar wood. When you have a couple of these garden planter boxes your requirement of vegetables could be grown at home.
Steps to build this planter box plan for vegetables.
Make assessment for your needs.
Take cedar board and other material such as star drive all weather self tapping screws box, power drill, wood glue, etc.
Build the box by joining the boards together.
Attach the frame legs using glue and screws.
Make drainage hole at bottom.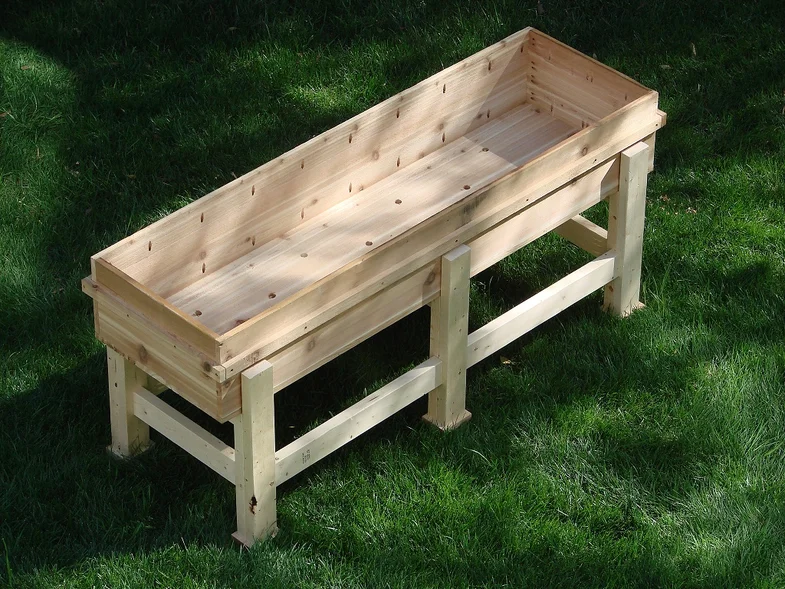 4- DIY Planter Boxes
For building a simple planter box like this one by morelikehome at front porch of your home, you only need a few pieces of board and a few pieces of lumber. As for the tools, you will need a drill and a circular saw. When completed, leaving two of them at the entrance will add good looks to your home.
5- Paver DIY Planter Box Plans
If you plan to rearrange your patio, then adding a cute flower planter will be ideal. This plan by thewoodgraincottage involves building a DIY planter box using wood boards and pavers.
The wooden frame is used to hold the pavers, each part of the box is built individually and then assembled that's I like this project. The structure has legs that raise the base.
These planter box plans contains step by step instruction on how to start and build this planter box within a few hours.
6- DIY Raised Horizontal Planter Pox
To be very honest I like this planter box idea the most! A long full detail-oriented planter box plan. No room for extra thought, slip ups and errors. The tutorial is on Instructables and we all know how many creative people on that website are. The creators are a husband-wife duo that also have a big YouTube channel.
This planter box design is simple and fun to build yet is also stylish and modern looking. You can build this DIY planter by instructables in single afternoon. Again, a YouTube video is also there for your convenience.
7- DIY Wooden Planters
If you need a modern planter that's quick to make, then you should consider this planter that's built from plywood.
This planter box plan by uncookiecutter is designed as a four square box, so you will need to cut all parts equally. You will need to pore holes on sides of the plywood to leak out the liquid. After building, you can then paint the planter as you desire.
8- DIY Raised Planter Box with Hidden Drainage
This is another awesome YouTube video tutorial. The creator has so many tools, a nice tidy place and works efficiently that hurrah for OCD! The planter box plan also uses cedar wood. If you are wondering why is everyone using cedar wood, it is pretty hardy and resilient to weather anomalies.
There is also a hack in there as how to remove dents from wood using a cloth iron
Also, the drainage feature on this planter, makes it unique and one of a kind and is totally hidden. The drainage feature diverts the water and keep the lower cedar shelf clean and dry. This wooden raised planter box on youtube is great for flowers or use it as a raised garden box to grow herbs or veggies.
So many little tips and a good walkthrough, the outcome is incredible!
9- A Simple DIY Wooden Planter Box
If you have no skills on carpentry and if you want to learn how to build a planter box this is the plan for you by makezine. The only requirements are the four uprights of 430mmX45mmX45mm and the four horizontal rails of 290mmX45mmX45mm in size. You also need some tongue and glue boarding. This planter box is good to be given as a gift as well.
10- Tiered Herb DIY Planter Boxes
Single planter boxes are great; however, if you intend to make a garden planter by decorandthedog, then its best to build a bigger one that would contain more plants or flowers.
This planter has a three steps design, which makes it perfect for even the edge of your house. It's entirely made of wood, the last tier been higher than the second and the bottom tier lower than the previous. You will have to build each tier, before assembling them.
11- Triangle Pallet DIY Planter Box
This plan involves using old pallets to build a triangular shaped diy planter box by lovecreatecelebrate. There is also a fitting triangular edge on its top. The bottom of the planter is covered with board to hold the soil and enable easy movement.
You can build this planter in a day, and it looks great on the patio. It's necessary to adhere strictly to measurement when making this planter, as any significant measurement errors may ruin the beauty of the piece.
12- A Low Cost Cedar DIY Planter Box
With minimal requirements of wood this beautiful planter box plan by ana-white made from cedar wood could be created at a cost of less than $20. Except for the drill and the circular saw you also need only the basic carpentry tools. It is of square shape and a side is 20" long. Fit for outdoor use.
13- Tiered Hanging DIY Planter Boxes
This project involves building a tiered hanging planter by mcfarlanddesigns. The planter has three tiers all held together with a chain. You will have to make each of the planter boxes, before arranging them in three tiers and hung to the ceiling.
You have to consider the measurement available before starting to build; you also need to measure the length where the planter will be hung, to determine the required chain length.
14- Easy to Build DIY Planter Box
This diy planter box on youtube is beautiful but you only need very simple materials to put it together. Being best suited for outdoor plants it doesn't cost a lot either. If you have basic skills on carpentry you could make it.
15- Cedar Wood DIY Planters
The plan will show you how to build a planter box from scratch. This planter box by homedepot is constructed wholly with wood and requires no particular skill to make. It's designed with four sides equal. It has small stands to lift the base from the ground.
16- Triple DIY Flower Box
The plan by blackanddecker is designed to build three DIY planter boxes made to complement each other. The plan is designed to help you quickly build these boxes, no matter the dimensions you choose.
You can also modify the plan as you desire. You can change the size and length of the boxes as you want. Whether you build one or all three of them, the planter boxes are small and easy to move around.
17- DIY Planter Box From Pallets
This project involves building a planter box like this one by homedit using pallets. The box is designed as a four-cornered equal side's box, with slanted legs to raise the base.
After building the planter box, you can then place a weed barrier fabric inside, before planting the flower. The plan is simple and less time consuming, and it costs very little, especially as you can get the pallets for free or at a dismissible cost.
18- Pallet Planter Box for Cascading Flowers
If you wish to grow fantastic cascade flowers, then this DIY flower box by hertoolbelt will enable you to achieve that in some style. This planter box plan is designed like a rectangular box, with long legs that hold it above the ground. You may have to pore holes around the box before planting your flowers.
The planter is made with pallets, except for the legs and it's very easy to build, even for a first time DIYer.
19- Pallet Wood Hose Holder with Planter
Need a classy diy flower box for your home?  Then you should check out this unique hose holder DIY planter by diycandy made from pallets woods.
This DIY planter box offers so much functionality to your home. The box is designed as a 'one door' small cabinet; the lower part having a door and space where you can keep your watering hose or any suitable garden equipment.
The top is built to be a little deeper, so it can hold the soil and flowers correctly.
20- Stylish and Low Cost 55 Gallon Drum DIY Planters
If you want to build a simple, low cost and attractive diy planter box, like this one by instructables then we suggest you this DIY project made with the plastic barrel to be an ideal. The planter is perfect for fruits and trees and can be built for less than $20.
The barrel can be cut to the desired size and then beautified by covering it all around with pallet woods attached with nails.
You can also use steel drum instead of a plastic barrel, and you should pore tiny holes at the bottom of the barrel bring out the liquid.
21- Address DIY Planter Box Plaque
The address plaque is a fantastic feature in your home that gives your home an extra appeal. These planter box plans by bemyguestwithdenise involves making DIY address planter Plagues that shows your address while beautifying your home.
The edge of the box is attached to the wood where the number will be written. You can modify the plan according to your desired size and the specifications.
22- A Simple Window DIY Planter Boxes
If you have a verandah, you could create a beautiful diy planter box such as this one by woodworkingcorner with planks of wood.
Here are some brief steps to make this window planter box.
Calculate the required size of planter box.
Collect and assemble each piece using screws and make drainage at bottom.
Use exterior wood filler to fill all holes.
Finish sanding and apply three coats of exterior poly.
23- Thirty Seven Feet of DIY Planter Boxes
When we talk about planting boxes, the general notion is that it has to be four-sided, but this comes with limitations. If you need a bigger and more flexible DIY wooden planter box like this one by yellowbrickhome, then you should go with this plan.
The plan is designed to cover a broader range like the whole front of your home. You can modify the design and size as you desire. The top of the box is left open, while an already made edge is attached to the top.
24- Modern Space Saving Vertical Vegetable Garden
Beautifying your garden demands just as much effort as when decorating your home, and with some scrap wood and a few other materials, you can quickly build this diy garden planter by manmadediy following this step by step plan.
You will have to build each frame individually before coupling everything together.
25- Privacy Planter Box Plans
Everyone loves and deserves privacy, and this planter is the perfect cover to keep your neighbors prying eyes.
The planters frame is made with pressure treated and rot resistant plumber. It also has casters to enables you easily roll the screen around the house. The diy planter box by  thisoldhouse can be easily built; it can be completed in a weekend and requires minimal materials and tools.
26- Picket Crate Planter Box Plan
The more beautiful your home looks, the more comfortable you are to invite people over.  This DIY planter plan by teediddlydee is designed to be flexible, enabling you to move them from place to place. It involves using wooden pickets to make a crate planter.
The pickets are attached to a baseboard and are then held together with plywood. This project is extremely affordable and easy to make.
27- Star DIY Planter Box design
In order to make a star planter like this one by jaimecostiglio, you never need to buy a lot of materials. Instead, you could use some of the boards from your old furniture that are otherwise going waste. As for the tools, you only need some of the basic carpentry tools. This small wood planter box is a good DIY job to try.
28- Unique DIY Hexagon Planter
Box planters are a unique way to grow plants and flowers in your backyard or deck. These planter box plans by homedepot shows you how to build a planter in a hexagon shape. The hexagon box is further divided into several segments so that you can plant different crops on the same box.
You can use these planter box plans to build a dozen other planters of various sizes and heights. The planter box is best made with treated boards, and it's advisable to build the external part before dividing it into segments.
29- DIY Planter Pot Table Combo For the Patio
DIY projects are perfect for the weekend, and this plan is the ideal project to work on this weekend.
This DIY planter box by biggerthanthethreeofus looks adorable; it's designed to have four segments; three as planters and the highest one closed and used as a table to place drinks or items.
Like most plans, you will need to build each part of the box to make it easy to assemble. The idea is very straightforward, and the step by step guide makes it very simple to build.
30- High-length Planter Box Plans
DIY projects are great outdoor projects, and this unique planter design will perfectly suit your home. The diy planter box by cherishedbliss is entirely made of wood and is longer than most. It also has a rope design that is used to beautify the front.
31-Trellis Planter Box Plans
A significant problem when growing climbing crops and flowers is determining where to direct them. Planting climbing plants with a standard box can be a disaster as it may even crawl into your house. However, with this project by deucecitieshenhouse which involves building a Trellis Planter; you can now comfortably grow your favorite climbing herbs and flowers.
The design is a rectangular box, with a trellis attached to its height. It's made with wood boards, and you can attach casters to make it easier to move.
It's best you build the box and the trellis separately before coupling them.
32- Planter Box Plan For Berries and Other Fruits
This planter box plan by premeditatedleftovers is wholly built with cedar logs; the logs are attached to each other with screws.  You will need seven logs to make this box size. After creating the box, you will have to insert a bag in the planter to hold the soil.
You need to select the ideal place, where the planter will stay before starting to construct, as its best not moved around.
33- Original Recycled Wood Chevron DIY Planter Box
If you are searching for a planter with a touch of class, then this DIY planter box by stuffsethmakes will be ideal. It has a chevron pattern which makes it adorable and ideal to make your outdoor or home entrance colorful. The project is made from recycled woods which you can get from the junk store. It's best if you use woods of various colors or paint them. You can modify the plan to your desired size and height.
34- Large Outdoor Planter Box Plans From Patio Pavers
Terracotta and ceramic planters are quite expensive; a visit to the store will prove that. However, they are stunning and depict class; you can follow this plan to build a colorful ceramic planter such as this one by hgtv with inexpensive concrete pavers.
You will need five concrete patio paver of the same size which you will hold together with construction adhesive. Four of it will make up the sides, while the fifth will be used for the bottom. After assembling the box; you can then paint or decorate it as you please.
35- Colorful Tin Can Planters and Pallet Holder
If your goal is to save money, beautify your garden and have access to fresh herbs, then this DIY planter box will accomplish them all.
This is one of the DIY planter box ideas by pillarboxblue that involve making a box to place colorful tin planters. The project is easy to make and cost almost nothing to construct. It uses Tin Cans and pallets. You will build the box frame to hold the tin cans before painting.
36- DIY Raised Planter Box for the Patio
Creating a raised planter for the patio like this one by lowes needs middle level of skills on handling wood working tools. There are six legs in this planter box and the length could be determined according to your requirements. The boards should match the size your planter in length. Major part of the expenditure will be on the wood. This is one of the best raised planter box plans for any home. Such diy raised planter boxes are also cheap to build.
37- DIY Raised Planter Box plan
It would be a disaster for your plants to eaten by rabbits or other free range animals in your area. You can prevent this by building a DIY raised planter box. by lazyguydiy.
The entire build is made with cedar planks and treated lumbers, and the planter is designed so that the soil comes in contact with the rot-resistant cedar planks.
It has three segments; one in the middle higher than the other two by the sides.
38- DIY Modern Raised Planter Box
And this is the first entry, a video tutorial. If you are planning on making DIY wooden planters, don't miss out on this one.
These simple yet beautiful modern raised planter boxeson youtube were built using Cedar wood and a few pieces of angle iron. The other material and tool to be used in planter box plan are also listed in the description.
It is a simple plan if you know your way around only two tools, micro saw and drill.
And at the end of the video, the plant arrangement in the DIY planter box was definitely gorgeous. You can take tips.
39- Two-Tiered DIY Vertical Planter
Now this is a sturdy vertical planter and the design is great too. It is perfect if you want to hide some imperfections or as a blockade. the two tiers are awesome for secluded planting.
There are handy tips in between the whole project that will save you from trouble and hard work. Everything is clearly explained and what you'll like is the cheeky parts throughout the whole read.
The plus is it is a free-standing vertical planter by jenwoodhouse and you don't need fence or any sort of support. You will definitely want to give this DIY planter box a whirl.
40- Outdoor Easy Planter Box Plan
A perfect planter to add livelihood and much-needed warmth to your front porch. No matter your plants are tall or short in height, this planter looks good with every type. The vertical design and the wooden contours look so awesome.
The best thing about this tutorial was that on the start of it, there was clearly written about the approx. price, time and difficulty level. The plan for this homemade planter box by pineandpoplar is easy and simple. The only tools for this plan you will need are drill, miter saw, nail gun, electric sander. Up for it?
41- DIY Lattice Planter Box
This plan's design is quite unique and new from others. This DIY planter box by anikasdiylife can fit into any setting and look no matter if it is minimalist, urban or vintage, you just need to change the planter's color. The tutorial for this is step by step with pictures.
The plan uses vinyl lattice and a few boards as base, great for indoors or outdoors. The creator was able to DIY this planter box within about 2 hours. Pretty fast huh, why don't take a look yourself. the planter box has a lot of texture and the crisscross pattern is so pretty.
You can also download the printable plans for this lattice planter box on the website.
42- Square Cedar Planter Box
Each chosen entry has a unique design of its own and this one is no exception. The plan is of a small-looking but big spaced and sturdy planter box that is a perfect square. The supplies and tools are listed and the read is with perfect headings.
The total cost for this one summed up to 40 dollars. YUP!
The bonus? The whole process is recorded as a YouTube video, if watching works for you more than reading.
42.8k people loved this DIY planter box by twofeetfirst. Why won't you?
43- Mini Address Planter Box
Your house number really doesn't show up and you want some aesthetic gratification too? Then this project right here is the answer, as people will probably see that lucky number when they notice the attractive planter. A creative planter box plan, killing two birds with one stone. This planter is definitely going to increase your curb appeal.
The creator also used faux succulents because he understands the black thumb people. Also, if someone tries to steal, they are in for a huge disappointment.
This house-number DIY planter box by tidymom is super simple and quick to make. Hands-on time, less than 30 minutes and you know what? no TOOLS required!
44- DIY Modern Outdoor Planter Box
Again, a design for those that have a knack for uniqueness. This planter box plan does not basically utilize wood and has got a cool statement to it. It has geometric pyramidal outgrowths all over it.
The planter box plan uses cool PVC wall panel which are three-dimensional and have tons of fun patterns and textures to choose from. You can look them up and choose the one for yourself. The creator's choice of using a cheerful yellow suits the DIY planter box by thehandymansdaughter, however any color will complement.
The surface is paintable which means water proof. You can again get free detailed woodworking 3D plans delivered straight to your inbox.
45- Reclaimed Pallet Wood Planter
Wanna cut straight to the chase? Here is one. No talk, just work. The creator is a hardy man and uses few tools to bring this planter box plan by 1001pallets to life. For this awesome planter, pallet wood was used which is great way to recycle the scrap wood.
Also, in this tutorial the metric measuring system is used if you are always getting in complications due to imperial.
The pictorials embedded within the read are great and, in the end, you can watch the overall building process of this planter box in the video too if that sails you boat.
46- Tall Tapered Wood Planters
How amazing would two tall wood planters like this one on youtube look on your patio. These ones are tapered which gives them this vase-like look. This tutorial is another YouTube video.
The plan is fast and inexpensive. You will have your own tall wood planters that you always wanted. Tapered, modern design, and build in five different heights!
Making a planter box was never this easy before especially the intimidating tapered ones.
Link to free plans is also given in the video description.
47- DIY Rolling Planter Box
This Planter Box is a simple and easy home project. With a handful of supplies and couple hours, you can make this DIY Raised Planter Box by kleinworthco in no mean time.
It is horizontally thin, perfect for the greens and herbs that you always wanted to grow. The mobility of these planter boxes is what makes them stand out. You need not to carry heavy weight no more. Just roll it around. Try growing strawberries or tomatoes in it.
48- DIY Intriguing Planter Box
Another simple yet intriguing design, little on the minimalist side. The little tapered legs like in this plan by woodshopdiaries give the DIY planter box such a fun modern feel. From a building plan of this planter, going through this read, you can easily customize and modify it for different sizes.
Another cool about these plans is that these boxes are likely small and if you dig around scrap wood pile enough, you might make them out of wood scraps.
You can also watch the tutorial on YouTube for better understanding. Free plans are also available.
49- Multi Level DIY Raised Planter Box plan
This beautiful diy planter box by growingthehomegarden that enables you to transfer your plants to shade when necessary is easy to build. Materials could be bought from your local gardening store. The cost also is minimal. Since you buy your pieces of wood, it is a case of assembly only. This is a good substitute for diy raised garden beds
49- Inexpensive Tall Planter Box
We can't scream how simple this one is, which is most of the best. Building a planter box has never been this easy.
Fed up of the planters that weigh a ton? This is the one (that actually rhymed). The lightness is due to plywood being used in the DIY plan instead of wood. The plywood is also cost effective too. The thing about this DIY planter box by thecrazycraftlady is that the build is not for medium filling but rather an outer coverage for plant pots.
50- DIY Pallet Wood Planter
This is a free standing trough planter on youtube for the garden that is made from pallet
The finished planter was then treated to 3 coats of Boiled Linseed Oil, some Compost and some flowers, and the project is done! In case you want to know how to make a planter box making this is a good exercise.
51- L-shaped Tier Planter
Last but not least, an L-shaped tier planter by gardenersworld. This one is made for those drab corners, perfect for growing plants in small spaces.
Using treated timber, you can make this wooden planter in a day. It's easy unique and quite new design to the usual horizontal and vertical planters.
One of the best wooden planter box plans. Everything needed is clearly listed and the instructions are highly understandable.
Conclusion
Planter boxes enhance the beauty, remind you of nature and add value to your home so having one in front of your house entrance or in the deck or patio is a very pleasant idea no one could deny. So, these were the best of best DIY planter box plans tat were found interesting, require little woodworking skills and were respectively inexpensive to build. Do check them out and tell which ones you like the most.
So answer some of the questions you may have in your mind we have prepared a questionairs.
FAQ"S
How deep to build a planter box?
A general rule is each plant or vegetable should have enough space to grow its roots and get water easily. For many vegetables like cucumber, broccoli beets, turnips can grow well in a planter that has a depth of 6-8 inch. Some vegetables such as cabbage need a depth of 10 inch and other vegetables like tomatoes, carrots and peppers can need at 10 inch depth.
What is the best soil for planter boxes?
When filling your planter with soil you need to choose potting mix soil instead of garden soil. Garden soil is too dense for your planter plants, on the other hand potting soil is lightweight and fluffy. A loose soil helps in easy water drainage, air flow and to use a fertilizer for the better growth of plants.
What is the best shape for a planter?
The shape of the planter depends upon the type of plants you are growing. For herbs, flowers and a single plant that have shallow roots you can opt for round pots while for leafy and roots vegetables a square planter is a better choice. Rectangular or square shape allows more surface area to grow many plants and water to fall though the plants so the plants can absorb the nutrients from the soil well.
Should I put holes in planter?
Usually a pots and container comes with a hole at bottom of it that makes drainage of excess water. If there is no hole you should make a one.
How many holes does a planter box need?
For a small pot (4" – 12" in diameter) there should be a couple of holes that are no longer than ½ of an inch. For large pots(16″ in diameter) you need to drill a couple of holes in a size of at least 1 inch in diameter.