Building a DIY screen door is a fantastic project to beautify and add character to your home. It's also the best way to protect your home from pests and bugs when you open your door to let in fresh air.
A DIY screen door is easy to build and with summer already here, you can also make one to keep out bugs from your home, patio or garage, so you can enjoy the sweet summer breeze.
You may also like to see other similar articles: diy screen in porch, diy barn doors , diy privacy screen, plants to keep flies and mosquitoes away, homemade pesticides, Fruit fly traps and natural tick repellents
Here are 25 DIY screen door projects to keep out uninvited invaders from your home.
DIY Screen Door Ideas With Tutorials
1. Wooden Screen Door
This plan involves making a DIY screen door from wood boards and other materials. The project is easy and requires no specific carpentry skill; however, you will need a few carpentry tools to get it done. On completing the project, you can then paint it with your desired color.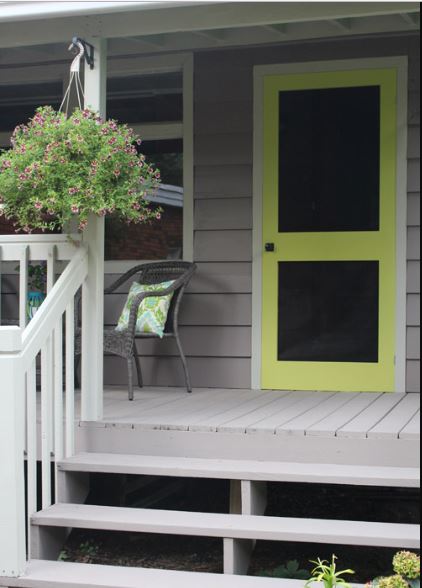 2. Single 2X6 Screen Door
This DIY project involves replacing an old and worn out screen-door. The original plan was made with a single 2×6 wood, it has a video which gives a step by step guide on how to make the screen door.
The project can be completed within a day, and costs just around $15. You can also tweak the plan and change the size to suit your door frame.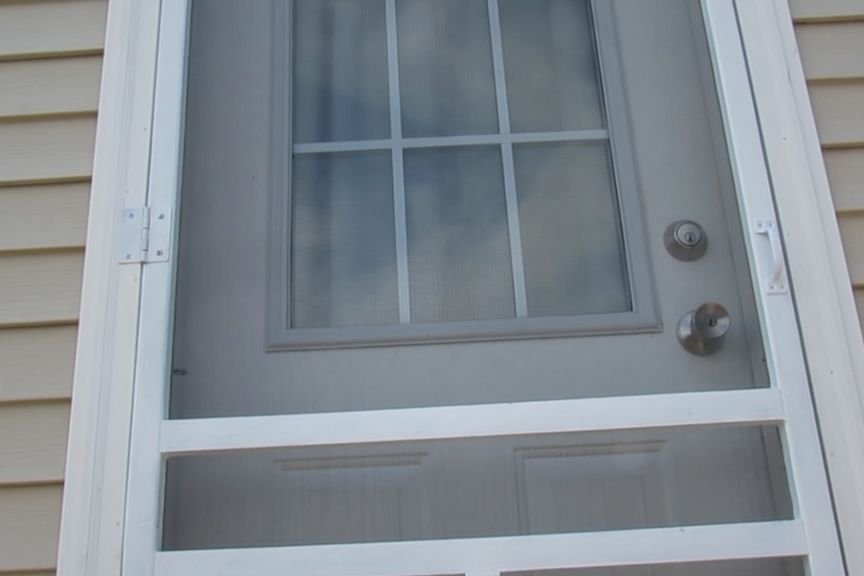 3. Wood Screen Door
A DIY door allows you to open your door and let in fresh air. If you don't have one in your home, you can follow this plan to make yourself custom screen doors that will suit your home perfectly. The design is a simple DIY screen door, with a rail at the middle and another dividing the lower part. You will need wood boards and a few other supplies and tools to get started. The plan contains a detailed guide on how you can build the screen door with pictures.
4. Flat DIY Screen Door
You can follow this plan to create a sturdy and affordable DIY screen door for your home. The design is a modern screen made of lumber wood and other materials. It has a rail diving it at the middle and two others separating the lower part of the screen door. The project is placed at an intermediary difficulty level and requires an essential woodworking skill; however, if you have done one or two DIY projects before, then you can certainly tackle this one.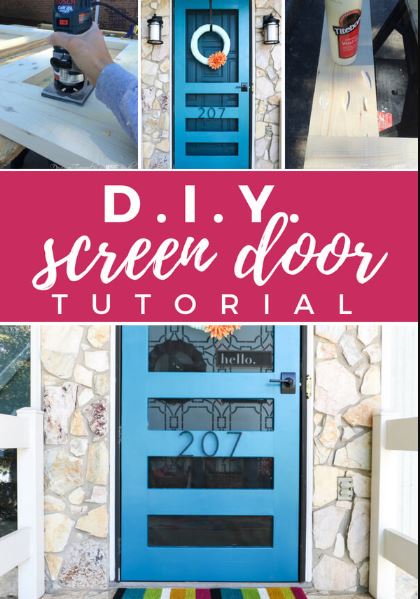 5. Garden Screen Door
If you have a non- standard door size, it could be hard for you to find your desired screen door at the store, which leaves you with the option of building a customized one that matches the measurement. This project involves making a screen patio door for a nonstandard sized door using a 2×4 wood plumber. The project cost under $35. The design can be precut at the lumber store, so you can easily couple it at home.
6. Plain Screen Door
With summer already here, it's time to start building some cheap screen doors to let the fresh air into the house, without worrying about pests and bugs. The plan involves building a full-length screen door, without middle rail. The simple design makes it suitable, as it would allow more air in, compared to the covered ones. You will need wooden boards, screen materials and a few other supplies and tools to complete the project.
7. Build a Screen Door
A wooden screen door will be the best choice to keep away crickets and bugs from getting into your home. Already made doors at the store have limited designs and can be quite expensive. The best bet is to buy a door kit and assemble it yourself. Millwork companies make parts for screen doors and have different designs and measurements, so you need to get glue, screening and a few other materials to assemble the screen door.
8. Rustic Screen Door
Screen doors are naturally thin and lightweight to ensure they fit the already occupied door frame, and this causes most screen doors to be flimsy. However, with this plan, you will learn how to make a screen doors that's sturdy and durable. This DIY screen door is made of rustic wood and can be completed in a day.
The original plan has a rail at the middle and the screen covering its full length to let air in and keep out bugs and insects.
9. Simple Exterior Door Screen Curtain
If you don't want to cover your elegant door with a screen door, then you should consider making a screen curtain that can be attached to your front door. This screen curtain idea is perfect, as it allows air into the home, keeps away bugs and enabling easy entry and exit through the door. You will need a roll of Black Fiberglass Screening and some other materials to get this done.
10. Screen Door For the Pantry
A new screen door costs about $150 – $200, however with this plan, you can build a customized screen door for as little as $18. The design is very sturdy and durable; it's made with a 1×4 lumber. The door is separated in the middle by rail. The lower part is covered entirely, while the upper portion carries the screen.
11. Wooden Storm Door
A storm door isn't just useful for keeping out the wind and rain, it a beautifying factor in your home entrance that your guests see when they visit.  A durable and attractive storm door is essential for every home, and you can follow this plan to build one for yourself. The original plan is a standard sized storm door made from weather-hardy wood, and some other materials. This screen door isn't hard to make; you just have to follow the instructions on the plan.
12. DIY Garage Door Screen With a Zipper
Getting a sliding screen door installed in your garage can come at an enormous cost; however, if you need something simple and less costly, then you can make this DIY garage door screen with zipper. This door screen will let fresh air in a while keeping bugs out of your garage. You will need a roll of fiberglass screen and a few other materials to get started.
The design is straightforward; the zipper is in the center of the screen and allows access, in and out of the garage.
13. Reforming An Existing Screen Door
Getting a new screen door that meets your requirement from the store could be quite hectic, and  if you find a sturdy one, it might be ugly. And when you find one that's beautiful, it might be flimsy. If you decide to buy any available one, then you can follow this plan to tweak it to your taste. You can change the color, size and other aspects of it.
14. Chippendale Screen Door
If you need a stylish screen door for your home, then you should build this Chippendale screen door. The design is an elegant screen door segmented at the middle. While the top is covered with screen, the bottom is beautifully designed. This is one project that will put a smile on your face anytime you return home. You will need wood lumbers, a roll of fiberglass screen and a couple of other materials and tools to build it.
15. Simple Wooden Screen Door
It's always fun to make items in the home yourself. This plan involves making ascreen door for a front door from wooden lumbers and fiberglass screen . The first thing to do before embarking on this project is to know the size of your screen door, and then decide on the design you wish to use. You can tweak the size and design of this plan to meet your specification.
16. Front Door Screen Door
Having a screen door in place is one way to ensure you enjoy the summer delights. You can open up your door without worrying about bugs and insects. This DIY plan will show you steps on how to make a sturdy, customizable and easy to build DIY screen door that will keep out unwanted flying visitors while letting in fresh air to your home. You should work on every piece of the screen door individually, and paint if you desire, before coupling.
17. Screen Door From Scrap Wood
This plan involves making a DIY screen door from scrap wood. The design is a fancy standard door sized screen, with a rail at the middle. You will spend less on this project if you have leftover woods from previous DIY projects. The plan is straightforward to build, even for a first time DIYer. Follow the plan and cut out every part of the door before coupling.
18. Pallet Board Screen Door
Soon we will experience the warm evening breeze filling the air; and you will likely open the door to enjoy the summer delight. Making this DIY door made from a pallet is the first step to ensuring you have a pleasurable experience, you don't want bugs under the sofa.
This project is amazingly cheap; it can be completed for about $12 total. The design is straightforward and can be quickly built by anyone with the right tools.
19. Screen Door for Under $50.00
If you want a custom door which is stronger and more durable, then you should consider this DIY screen door. The door is built from plywood, and other essential materials and tools. The design is a farmhouse-style screen door separated at the middle with a rail. The top is sealed with a screen, while the lower part is covered with wood. This DIY screen door will give your home a fabulous curb appeal.
20. Screen Door From Pine
It's one thing having a screen door, and another thing having one that adds personality to your home. This plan is tailored to allow you to change both the design and the size as you wish. It's made of wood pine. You will have to measure the size of your door to know how to shape the plan. The design is a bottom covered screen door with a screen-guarded top.
21. Sliding Screen Door
This DIY idea involves building a sliding screen door to protect the house from bugs while allowing the entrance of fresh air. Stainless hardware, cedar board, solar mesh and a few other materials are used to build this board. There is also an attached plan for making screen covers for windows from cedar boards. You will need roller tracks and fiberglass screen for this project.
22. Pallet Screen Door
If you are looking for a cheap and easy way to get a better cool breeze into your house without worrying about bugs, flies, and insects, then this project is ideal. It involves making a DIY screen door from pallet wood. The total cost for this project is under $25, and it is very easy to make. You need first to salvage the pallet, remove nails and dirt before you start building.
23. Screen Door Out of an Old Window
This DIY screen door idea was borne out of the maker's inability to find the right screen door size for her home. It involves salvaging old windows to make fly screen doors. The outcome is a classic screen door with screen covered top and wood covered bottom. The project turned out to be sturdier and durable compared to those you will get from stores.
24. Install a Retractable Screen Door
If you love to open your front door, then you will be in trouble if you don't have a screen door in place. This plan contains instructions on how to install a retractable screen door to keep away pests from your home. This is more suitable for those who may not want to build the screen door from scratch. You will need to purchase the retractable screen door and then follow the guide to install it.
25. DIY Adorned Screen Door
It takes money to build a beautiful screen door, however instead of entirely dispersing your existing door; you can follow this plan to remake it into a beautiful antique screen door. This project can be completed in a few hours, and it's effortless to make. You will need rescreening tools, corner brackets, and a few other materials to get this done.
Conclusively, building a screen door for your home is the ideal project to embark on with the family during the weekend. It's a fun activity which will make life easy and more pleasurable for you. Choose one of the listed plans and start building.